Greetings, Miner's Glory! 
We're currently running a giveaway for
Tier 2 Coin Pouch
, all you have to do to enter is 
join our Discord server
 then visit the
#giveaways
channel, react to the bot message with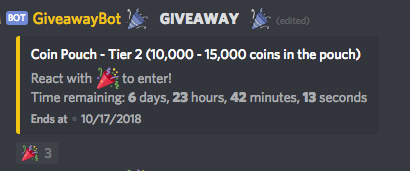 ---
On
10/17/2018
, one lucky player will receive a
Tier 2 Coin Pouch
which is a chest that when opened gives you 10,000 - 15,000 coins. 
This chest can either be left unopened for trade to other players or saved for opening at a later date, or opened immediately to be given a random amount of coins between 10,000 - 15,000.