Greetings, Miner's Glory! 
We're currently running a giveaway for a VIP+ rank for our Minecraft servers, all you have to do to enter is
join our Discord server
 then visit the #giveaways channel, react to the bot message with 

 and wait until the draw on 10/09/2018.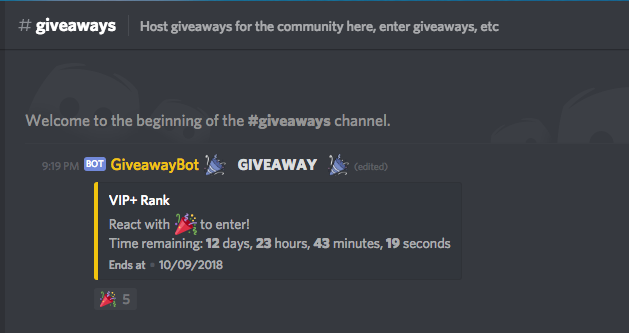 More info on the VIP+ rank prize:
Special color formatted [VIP+] chat tag
20,000 coins added to your in-game coin balance upon purchase.
Set 15 homes with /sethome.
Exempt from being AFK kicked.
Set weather in /panel (client side).
Access to /hat to use any item in hand as a hat.
Access to /arrow to set custom trails on your arrows.
Access to /kit food once every 7 days (4x Bread, 3x Baked Potato, 6x Cooked Chicken, 3x Cooked Rabbit, 3x Cooked Fish, 11x Cookies, 1x Cake, 2x Pumpkin Pie)
Ability to use colored chat messages.
Ability to use formatted chat messages.
Ability to mute the server chat for yourself with /togglechat
Ability to set time of day in /panel (client side).
Get access to a workbench anywhere with the command /workbench
Earn 20% more experience in McMMO.
Join now -->
discord.gg/fpMWhq3
<-- Join now